By Job Zomerplaag
In Vienna, the city-in-a-city Seestadt is emerging. As the newly built city is being built from scratch, planners, artists and citizens are concerned with building an identity and sense of community for one of Europe's largest development project. 4CITIES student Job Zomerplaag (Cohort 11), who combines his studies with his work as a freelance journalist, got fascinated by the case of Seestadt when he visited the place as part of an excursion. His fascination has resulted in a long read published by Gebiedsontwikkeling.nu, one of the leading outlets on the topic of urban development and planning in the Netherlands.
Ride the metro out of the centre of any given European city, and you'll find yourself leaving its historic core, entering dense suburbs surrounded by open fields. In Vienna, however, a city is emerging where you'd expect the countryside to start. This newly built settlement gets its name from the artificial lake it is centered around – Seestadt. As more and more people are populating the lake's shores, planners, artists and citizens are concerned with building an identity and sense of community for this ambitious urban development.
With a size of 240 hectares, equivalent to Vienna's inner-city district, Seestadt is one of the largest projects in Europe. Five years after the first occupation of a residential building, over 7,000 people have come to populate the former-airfield site. Centered around an artificial lake, with a smart city strategy and a fast metro connection to Vienna's city-center, an alternative to the historic inner city is being developed. By the time of its completion in 2028, Seestadt's population is due to rise to 20,000, with the same amount of jobs created. As urban planners and architects from Vienna and beyond see their designs realized, one key aspect of city life remains that cannot be sketched on a drawing board, nor built with bricks or mortar. How do we build an identity and sense of community for a city in progress?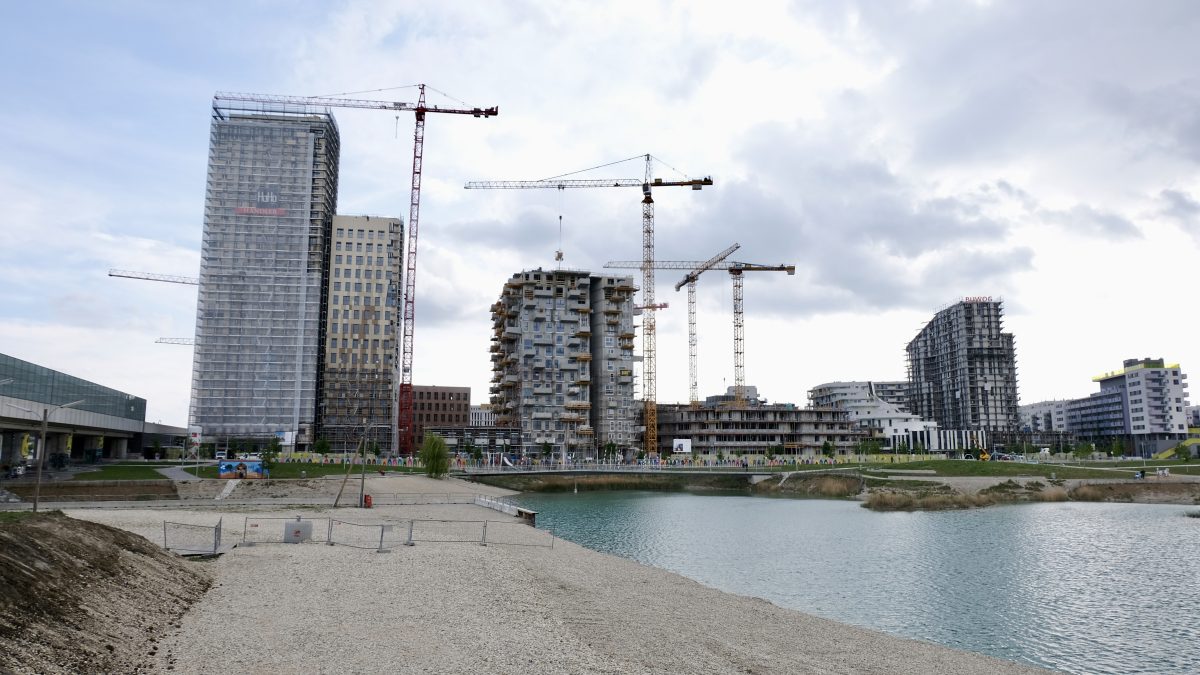 Vienna: fastest growing and most livable city
"Seestadt was never thought of as just another suburb of Vienna," says Lukas Lang, responsible for its urban development. "It is designed as a city-within-a-city." Besides planning an attractive place with an explicitly family-oriented design, Seestadt is imagined as a new regional center. For Vienna, Europe's fastest growing city with a population of about 1.9 million, this helps address the challenge of providing housing to 250,000 future Viennese by 2048. "A significant share of these people will find housing in Seestadt and surrounding developments."
Located in a city that has been ranked as having the highest quality of life of any city in the world for the tenth year running, Seestadt is an attempt to make this successful model future-proof. According to Lang, one of the key elements of Vienna's livability model is its long history of social housing and access to green space. "This is a place where old traditions and new ideas meet," he says. "Affordable housing for all is in the DNA of Vienna; in Seestadt more than 60 percent of all dwellings will benefit from some form of public support." While overlooking a map of the urban development, he points at the green belt around the circular city: "Seestadt unites the urban and the rural, and public space is where these two worlds overlap." Immediately after the master plan was presented, renowned Gehl Architects developed a strategy for public spaces in order to put people at the center of planning. "Half of the entire area is devoted to public spaces, as these are the places where people meet and interact."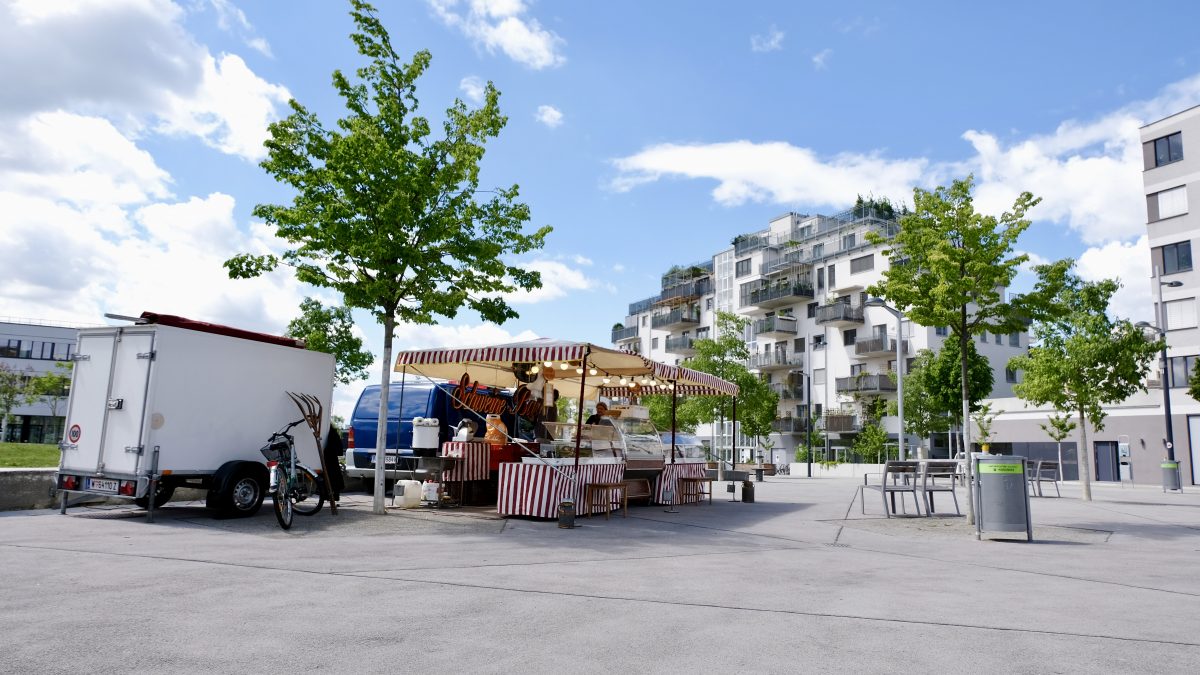 Seestadt is what we all make of it
As the case of Seestadt shows, cities can be built from scratch – and so can public spaces. But for people to actually find their way to the parks and squares, and hence to each other, the driving forces behind Seestadt have established a so-called neighborhood management team. "From the day that the first people moved here, it has been our job to bring people together," says Pia Sengelin. She is part of the team made up of mostly young people. From their office located in the main square of Seestadt's first phase development, they coordinate and support projects that strengthen the local community.
They also run a community room, a space which is used by local organizations such as a choir and a language exchange initiative. "We have opened a do-it-yourself workshop, where people can go for repairs and handicrafts," she says. "All of these projects serve to facilitate and contribute to the formation of a Seestadt community and identity. Our team works by the slogan "Seestadt ist das, was wir gemeinsam daraus machen!"(roughly translated: 'Seestadt is what we all make of it').
Growing together in community gardens
Another project the neighborhood team supports is urban community gardening. One of the main drivers behind this initiative is Jacqueline Fohringer, a secondary school teacher who moved to Seestadt in 2018 . "I used to live in downtown Vienna in an area with not many green spaces. There I really started to miss gardening and nature in general."
After moving to Seestadt, despite the fact that her friends were doubting her move to a "boring outpost," she started a community garden with ten others. "We take care of the garden collectively and share everything we harvest," she says as she opens the gate leading to the garden. According to her, the community gardens fit the broader societal trend of finding our way back to nature. Young parents use the gardens to teach their children about where food comes from, while others see it as a way to clear their mind after a long day at work. "I very much enjoy the collective aspect of it. It is a nice occasion to meet my neighbors – and have the feeling you can literally grow something together."
When reflecting on the question of what she shares with her neighbors, Fohringer mentioned that it is hard to find a strong common identity among the Seestadters. "I do think the people here feel very engaged and want to grow along with the city. If there is one thing we share, it is that we all like to come back to our town," she says. "If you work downtown and take the metro home at the end of the day, you get a holiday feeling as soon as you see Seestadt's towers appearing in the distance."
Witnessing the birth of a city
Long before the first metro arrived or towers were built, Jan Lauth already fell in love with the place that would later become Seestadt. "It was love at first sight," he recalls. Lauth, a multimedia artist and lecturer at the University of Applied Arts, runs the city's art centre. Found at the ground level of a parking lot, his creative hub 'Jot12' sits next to the community room, and is within walking distance of the greenbelt. "We spend 60 hours per week here, even though we have not managed to find housing here yet," he says. "We are just really addicted to this place."
Even though you wouldn't immediately picture an artist getting inspiration from construction sites and barren plots, Lauth believes "it's a unique opportunity as an artist to witness the birth of a city." While staring at a tower under construction, he adds: "We are so familiar with cities – but if one is being constructed right in front of you, you suddenly become intrigued by it."
"The most livable neighborhood in the world's most livable city"
The artist-in-residence brings his art to the streets, and public spaces in particular. "In Seestadt, public space serves as an extension of your apartment," Lauth notes. He actively crowdsources ideas from the residents by asking them to reflect on how they imagine the city of their fears and dreams. He then shares his findings with the architects and planners that are building Seestadt. "I do not want to limit myself to questions about the meaning of community. Seestadt is the city of the future. Therefore, technology and future-thinking will be the spirit of this place." Lauth believes that this approach will provide multi-perspective solutions to urban social challenges such as segregation and migration. "Vienna might be a good example internationally of how people can live together in peace, but Seestadt will be the best example out there. This might well be the most livable neighborhood in the world's most livable city."
This city will never be finished
As Seestadt will be undergoing many transformations in the coming years, its sense of community and identity is likely to do so too. In Europe's fastest growing city, planners, community workers, artists and citizens are working collectively on building this future city – and making the Viennese model of livability work for Seestadt. As Seestadt planner Lukas Lang reflected, regarding the future of the city: "We should give Seestadt enough time to develop its own identity and allow its people to build their own community.
"This city will never be finished, but this project will be successful when it is able to reinvent itself. That's when it will be flexible enough to adapt to future challenges that we cannot imagine today."